Our first cohort of Security (SIA) Sector Based Work Academy learners have completed the course and are now being interviewed for security positions. This is a four week course comprised of multiple level 1 and 2 sector-specific awards aiming to get our learners qualified and work-ready:
Week 1:
Mindset and Motivation / Health & Safety / Mental Health Awareness / Personal Development for Employability
Week 2:
CV & Job Application Workshop / Event Stewarding
Week 3:
SIA – Level 2 Award in Door Supervision
Week 4:
Level 2 Team leading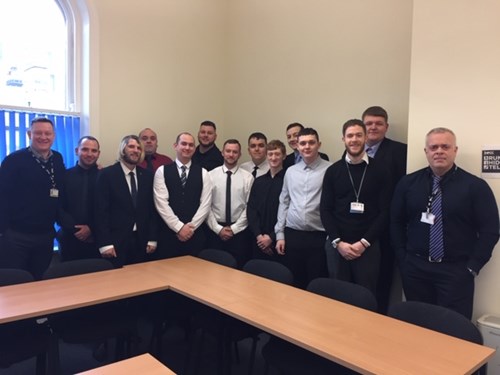 "A real pleasure having these gentlemen in a group. Each of them worked hard and achieved all of their qualifications, to a 100% pass rate. This has been a rewarding experience for me, seeing each of them achieve their goals within the course and how they developed their understanding, not only of the industry they wish to work in, but also their own personal development. Well done guys, I wish you all the best for the future!"
– John McDonagh (tutor)
To utilise our free recruitment service call 01226 216760 or email work.academy@ind-training.co.uk  
ITS Group - Your Perfect Training Partner for Apprenticeships and Short Professional Courses.