"I feel that I have been fully supported throughout my whole experience and that I have developed many skills, both to help me with my job at Barnsley Metropolitan Borough Council (BMBC) and with my day-to-day life.
"Without ITS and my tutor, I don't feel that I would have been as successful with my qualification as I have been. Since finishing my Level 2 Business Administration Apprenticeship I've managed to secure myself a 3 year fixed post within Health and Safety at BMBC where I will be studying my Level 3 SHE (Safety, Health and Environment Technician) qualification, this is an amazing opportunity with a very varied day to day workload. I will be working across the whole council making sure health and safety practices are adhered to correctly amongst other things.
"I'm very excited to start this and without ITS providing my Level 2 and supporting me where needed I would have never achieved the things that I have while I have been with BMBC. I'm very grateful for ITS and my tutor, Angie, and I would recommend anyone to study with them!"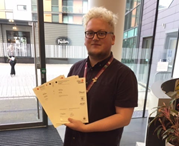 For more information about our Business Administration Apprenticeships click here
ITS Group - Your Perfect Training Partner for Apprenticeships and Short Professional Courses.